About 30 minutes south of Madrid by high-speed train sits the former capital, an ancient walled city called Toledo. The locals call it "the City of Three Cultures" because of its Muslim, Jewish, and Christian history. As a junior at Notre Dame I spent a semester studying at a college and living with a host family in Toledo. I fell in love with the history and charm of the small, dense city, a place often overlooked by tourists but filled with incredible art and spectacular architecture.
The sun was shining by the time we got off the train and headed up to the main square, the Plaza de Zocodover. After showing Matt the school where I took my Spanish film, culture, and art history classes, we stopped for a breakfast of tortilla (traditional Spanish potato omelette) and café con leche at a tiny outdoor table near the center of town. Next was a tour of the Toledo cathedral, which I think is hands-down the most impressive cathedral in Europe (I swear I'm not just biased; see for yourself). The building contains a large collection of works by El Greco, a sixteenth-century religious painter, and the most intricate altar I've ever seen, three stories high and covered in gold. It took over 250 years to build, and once you walk into the enormous stone structure, it's easy to see why. My favorite part is a Baroque-style masterpiece behind the altar called El Transparente. It consists of a skylight cut into the ceiling to let light shine onto a combination of paintings and sculptures that emerge from the back of the altar, giving the illusion that God's light is illuminating the cathedral and giving life to the art.
Toledo Cathedral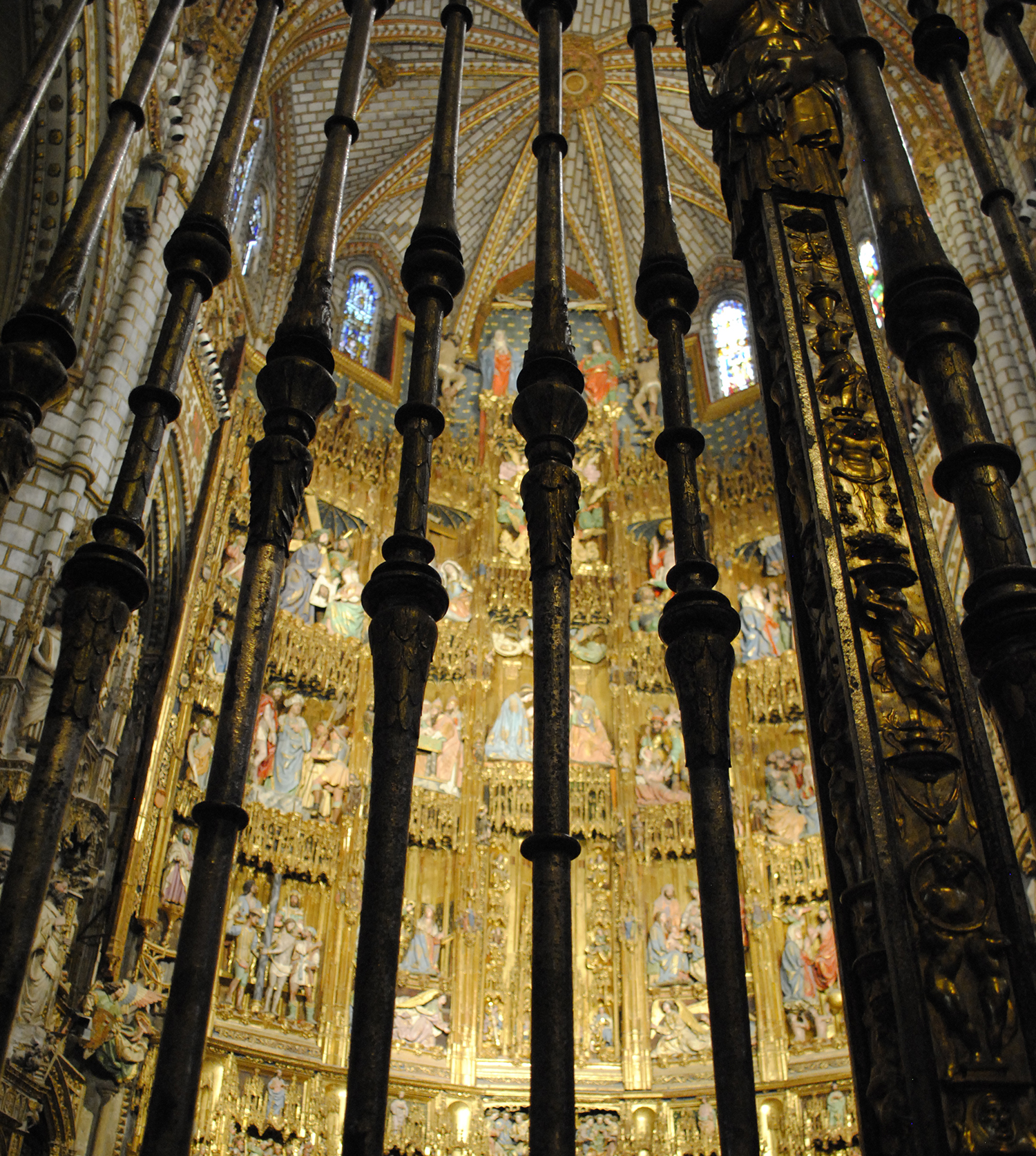 Stepping back out into the bright sunshine, I led Matt to Enebro, my old college hangout bar just below the main plaza. My friends and I used to buy buckets of Estrella beer after class and snack on tiny bite-sized bocadillo sandwiches on Enebro's terrace. Sure enough, while we waited in line to order drinks we were approached by a current Notre Dame student and his visiting parents. I guess the beer bucket deals are still too good to pass up.
Around 3:00 we went out to a nearby residential neighborhood to have lunch with my host family from my semester abroad in 2012. The two girls, Helena and Celia, had grown up into teenagers in the five years since I'd seen them, but the entire family was so warm and welcoming and kind. They had made seafood paella (which they remembered was my favorite), and we drank local wine out on on the terrace. We spoke entirely in Spanish, and Matt impressively held his own in the conversation, even though his last Spanish class was in 2008. We finished up with whipped cream strawberries and apertifs, and my host parents told me how they thought my Spanish accent when I came to live with them sounded like a bad South American soap opera actress. They drove us to the train station, and I tried very hard to express my gratitude in Spanish, although it was impossible to tell them just how much it meant to us.
Casa Bonay, our little hipster hotel in the Eixample neighborhood of Barcelona, was perfect. It was in a historic building but had been recently remodeled, and the rooms were simple but comfortable and well designed. It has a wide, dark green bar in the lobby called the Libertine, and a very trendy café up front called Satan's Coffee.
Our first stop after checking in was a plaza in the Gothic Quarter in front of a church called Santa Maria del Pi. We sat at a table outside and watched street performers over glasses of sangria. We walked all the way through the Barrio Gotíc to the ocean and back again. After all those miles, it was time for a true Spanish siesta!
Later that evening as the sun went down, we wandered under the Arc di Triomf and through the Parc de la Ciutadella, where multi-generational Spanish families were playing and laughing and picnicking on the grass. We headed into the Born neighborhood to a restaurant called Bormuth, where we ate Catalan albóndigas (meatballs) and drank red wine. The waitress was playing 1970's American pop songs and singing along the whole time. Next stop was Mesón del Café, a very funky old wooden shop where we picked out pulpo a la plancha (grilled octopus) and deep fried shrimp with Catalan aoli. The bartender was smoking out front next to a man playing a mysterious instrument that looked kind of like an accordion.
Continuing the historic tapas tour of the city, we stopped into Quatre Gats, apparently the old haunt of Picasso and other artists of the day. We had mussels with tomato garlic sauce and enjoyed the Picasso sketches on the wall. By the time we finished there it was 10pm, which is just about normal dinnertime in Spain. We went back to the Eixample neighborhood to a restaurant called Ciutat Comtal, where we waded through a mass of people waiting to sit down. Matt managed to snag some seats at the bar, where we ordered a pitcher of sangria and looked into the case to point out the "tostas" that looked good. Each one was a slice of baguette with an array of different toppings. Matt's favorite was the three melted cheese tosta, and mine was the crab salad topped with shrimp.
Monday morning we stopped in a little corner shop for café con leche, then made our way towards the Mercado de la Boqueria. Vendors hawked fruit cups and legs of cured ham hung from the ceiling. We wandered the stalls and bought supplies for a picnic, including a mini baguette, manchego cheese, cured ham slices and a cup of strawberries. A diagonal funicular took us up to the top of Montjuic, a steep summit overlooking the city, and we picnicked on a stretch of sunny grass with tiny plastic cups of Estrella beer. That $7 meal tasted better than most I eat at expensive San Francisco restaurants.
Mercado de la Boqueria
We came down from Montjuic and headed out to Barceloneta, the wide stretch of beach lined with discotecas and seafood restaurants. We found ourselves an outdoor terrace and a pitcher of sangria, watching people on bikes and rollerblades pass by as the sun sunk low in the sky.
Our tapas crawl that night started at a place called Cal Pep that we'd read about on a few blogs, and it turned out lots of other Americans and Brits had read about it too because every person in the restaurant was speaking English. They served some tasty garlic clams, but we thought it was touristy and overpriced. The next place, however, was a hidden gem. We walked along a quiet alley in the Barrio Gotíc called Carrer de la Mercé and tried our luck at a spot called Tasca el Corral, where we ordered some cañas of cerveza (cañas are small cups of whatever light beer is on tap) and a dish of chorizo. The dish the bartender brought to our table was engulfed in flame, and he told us to keep stirring the chorizo until the flames went out. It was one of the best tasting tapas we ate the entire trip, not to mention the most impressive presentation.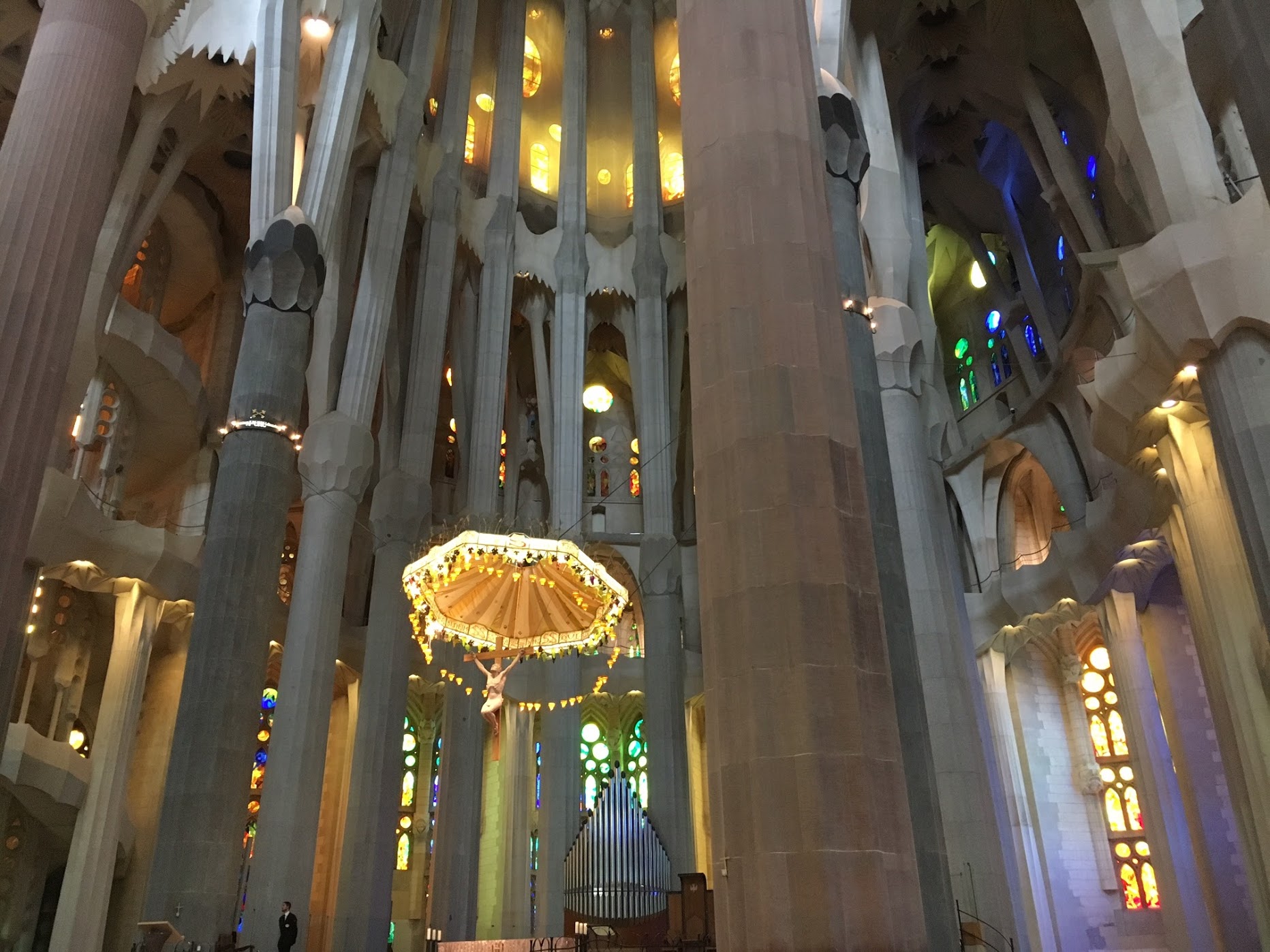 Day 3 in Barcelona started with (surprise, surprise) café con leche, followed by the most spectacular example of Modernisme architecture in the world: Gaudí's Sagrada Familia cathedral. Construction on the building began in 1882 and still isn't complete, but the goal is to finish by 2026, the 100-year anniversary of Gaudí's death. The outside of the enormous building looks like an insanely intricate sand castle, one facade representing the nativity and the other side representing the crucifixion. The interior of the cathedral feels like a quiet, massive forest; each column branches outwards at the top like a living tree. Vibrant, saturated light streams into the nave between the columns, blues and purples and greens on the east side, reds and oranges and yellows on the west side. My favorite thing about the Sagrada Familia is that it draws upon nature and organic forms for the design instead of rigid geometric structures. The effect is one part enchanted forest, one part spiritual refuge, and one part trippy sand castle.
Part of our entrance ticket was an elevator ride up to the tower on the Nativity Facade. Although the city view from the top was impressive, we were only up at the summit for about a minute or so before starting the descent down the tightly-wound stone spiral staircase.
Heading north from the Sagrada Familia, we meandered up a street that felt very French, lined with crepe shops and cafés. We found a covered terrace with a view of the cathedral and sipped some more café con leche, savoring the new perspective of the church and the old Spanish abuelos pushing their grandchildren around in strollers. Somehow we managed to navigate the Barcelona transit system and ended up at Parc Guëll, Gaudí's design for a Modernisme housing development on a hill overlooking the city. We climbed to the highest lookout point of the park, descended through the wave-like stone columns, and picnicked under a trellis of fragrant bougainvillea.
Parc Guëll
Feeling like Spaniards, we took an afternoon siesta before heading back out for the evening. We stopped at an old-looking bar on a plaza in the Born district, where we had goblets of orange cava sangria and I sketched in my notebook. Next stop was the Picasso museum, where we followed an audioguide tour of works that spanned the artist's entire lifetime. My favorite was a series he did just before he died of a cage full of birds on his balcony; Matt's was a realist piece he painted at age 14 of a girl's first communion.
Our nightly tapas parade began at a Basque-style pintxos place called El Xampanyet, where we ordered two tiny toasts at a stand-up table. My tosta (stuffed red pepper) was so spicy that I had to eat most of Matt's jamón tosta to put out the fire in my mouth. Next stop was a tiny shop on Carrer de la Mercé called La Plata where house wine cost 1 Euro and comes out of barrels on the walls, and the ground is covered in trash (it's customary in casual Spanish restaurants to throw napkins and toothpicks onto the floor instead of leaving it on tables). We bought cups of house wine and the fresh seafood of the day, which happened to be whole fried sardines (and yes, we ate the bones too). At the next place we got a plate of Manchego, and by the time we finished there (around 10:30), we needed one final snack, so I brought Matt to one of my favorite chain restaurants, Cien Montaditos, and we had a few tiny bite-sized sandwiches and mugs of Tinto de Verano before heading off to bed.
We hopped on the train in sunny, hot Barcelona and three hours later we arrived in Madrid to 36 degree weather and SNOW. This was so unexpected that waiters and shop owners were emerging from their stores and taking pictures of the falling snow. I was completely unprepared clothing-wise, and had to make a quick stop into Zara for extra sweaters. The second priority for me was paella, so we hunkered down at a place near Puerta del Sol called Alhambra and waited for our seafood paella with a pitcher of sangria (by now we'd developed a serious sangria addiction). The table nearby was full of about 7 Spanish ladies in their 50's and 60's having a post-shopping trip beer. After paella we checked out Plaza Mayor and Mercado San Miguel, a glass-walled market with stalls selling drinks, cheese, and desserts. It's more high-end and trendy than Boqueria in Barcelona, centered around communal tables for drinking and dining. We had small fried croquetas filled with Bacalao (northern salted cod), which was one of my favorite things to eat from when I lived in Toledo.
My favorite art museum in the world happens to be the Prado in Madrid, and even though I went five different times when I was living in Spain, I was happy to go again and show Matt some of the paintings I studied in my Spanish art history classes. We waited in line outside to go during the free hours (6:00–8:00pm), and hit the rooms with three artists I consider not-to-miss: El Greco, Francisco de Goya, and Diego Velázquez. All three used different techniques and styles, and depict subject matter from religious symbolism to patriotic heroism to royal portraits. Velázquez's Las Meninas is arguably the most famous painting in the world, and in my opinion it does not disappoint when seen up close in person.
We ate dinner that night along Calle Cava Baja. First stop was a Basque style place called Txakolina Pintxoteco Madrileño where we chose our tostas out of a display case. Mine was especially amazing: crab salad topped with salmon and gula (eel). Across the street was a long, narrow bar with walls painted bright green and covered in flamenco paraphernalia (super fun vibe), where we ordered Spanish rioja and snacked on free chorizo and crackers.
When we were full, Matt patiently accompanied me to San Gines, a famous 24-hour churros restaurant where the walls are lined with black and white photos of Spanish actors and actresses. We dipped the fried sugary cylinders into a teacup of steaming hot chocolate with a pudding-ish texture, which is possibly the greatest food combination ever invented.
The next morning Matt Smith, our resident coffee connoisseur, led us to a trendy shoe-themed café called Coffee and Kicks (sounds weird, but it worked for them), then we braved the cold and walked to the Palacio Real on the west side of central Madrid. We watched the funnily-dressed guards ride in circles on their fancy white horses, then walked through the adjacent Almudena cathedral. Whereas Toledo cathedral seems focused mainly on the art, and Sagrada Family is obviously about the architecture, Almudena has a somewhat simpler design and feels more about religion. The snow started falling again and we ducked into 4D Café to warm up with a late breakfast (Spanish tortilla and toast with tomato sauce and jamón ibérico).
We decided to meander through the Lavapiés neighborhood, which felt much less touristy and much more residential, and checked out two local markets: Mercado San Fernando and Mercado Antón Martín, where vendors sell produce and books and wine. We also found an amazing popup shop with local art, candles, and vintage clothes.
We had read about Cervezaría Aleman, a restaurant on Plaza Santa Ana where Hemingway used to hang out and write, so we grabbed sangria at the bar and watched the snow fall outside. The waiters brought us little bites of tortilla on toothpicks, and older Spaniards next to us laughed and told tipsy stories. Next stop was El Leon de Oro (the Golden Lion), a quiet, mostly deserted wine bar playing beautifully sad French music where we drank rioja and ate tuna aioli red pepper canapés. Two of my good friends from college, Rachel and Cristina, happened to be in Madrid at the same time as us, so we all met up at El Diario de Huertas for snacks and sangria. More croquetas were on the menu, as well as jamón ibérico, and they told us about their time in Andalucía the week before. They hadn't tried churros and chocolate yet, so I was more than happy to return to San Gines for an afternoon dessert with them before they left to meet cousins in the subburbs.
Matt had been wanting to try the Madrileño specialty pig's ears (for some unfathomable reason), so I reluctantly went with him to a restaurant called (fittingly) La Oreja de Jaime. The pig's ears were covered in a spicy aioli sauce, and the pieces that didn't have any cartilage in them were actually surprisingly tasty, like thick-cut, fatty bacon. We were pretty full at this point, so at the next place (Taberna la Tia Cebolla) we only ordered sangria. Last stop, for a nightcap and a small midnight snack, was a brightly lit spot across the street from our hotel called Cañas y Tapas, where we bought, you guessed it, cañas y tapas. We played some pool in the upstairs hotel bar before calling it a night.
On our final day in Spain, we met Cristina and Rachel in el Parque Buen Retiro, where we wandered the maze-like paths through the park and rented rowboats on the lake. A large glass building called the Crystal Palace is currently housing an audio art exhibition that plays the sounds of ice melting and glaciers cracking... which we all admitted we didn't really get. Next we went across Calle de Atocha to one of the many meat shops throughout the city called El Museo del Jamón; a place that had quickly become Matt's favorite thing about Spain. Each Museo (not really a museum, just a deli chain with meats and cheeses and coffee and beer) has a casual bar counter to lean against, walls lined with whole cured ham legs, dirty napkins all over the floor, and a staff full of loud, rude men who shout your order back to the kitchen. But it's absurdly cheap, and Matt by this point was hopelessly obsessed with the thin-sliced cured salty meat, so we'd order a large plate of jamón, a few slices of bread, and two beers... for a total price of under 4 Euros. By this point we had eaten at El Museo de Jamón at least five separate times.
After one more stop along Calle de Jesus (which was our favorite tapas street in the city) for sangria and queso, we walked down Gran Vía, the largest shopping street in Madrid, to buy a few souvenirs. I got a hot calamari sandwich to eat walking around Plaza Mayor, because it was the only "Madrileño" snack we hadn't tried yet, and we eventually found our way to a warm and cozy restaurant called Fatigas del Querer, which we found out translates to "Toils of Love." Two musicians sitting at the bar — who seemed like they'd been sitting there all day — would sporadically start tapping out rhythms with their silverware and grab their guitar to drunkenly sing whatever song popped into their heads. Some free entertainment to go along with our pitcher of sangria.
The sun started to set and we walked around some of the streets we'd become familiar with, taking the customary Spanish "paseo" with local families and couples. After walking miles back and forth through central Madrid, we had decided that our favorite neighborhood was El Barril de Las Letras, or the Literary District. The narrow streets are lined with trees, and every other storefront is a cute, old-looking bar or restaurant. It feels like the perfect combination of trendy and historic, while also not being overrun by tourists. We got a late dinner of seafood paella, grilled mushrooms, and (more) sangria at a strange hybrid Italian / Spanish decorated restaurant called Taberna la Pompeana, where the walls were painted with imitations of mythical characters from Prado paintings. We had a few more tiny cañas of cerveza at Pozo Bar down the block, and around midnight emerged into the clear, cold night to take our last walk through the crowded Madrid streets.